Customer service surveys
Learn what your customers want from a product or service.
SurveyManager® empowers you with the ability to connect with and create a continuous conversation with your customers. Listening to your customers, and you'll gain priceless insights. Understanding what your customers want gives you a competitive advantage and the information you need to help adapt to current market conditions.
One of the keys to success is knowing how well your organisation's products and services meet, exceed, or fall short of your customer's expectations. Learn about which areas your products and services need to improve on, and you'll know exactly what you need to do to meet the needs of customers.
Understand the why behind transactional data, and you can differentiate your company's offering. With accurate and easy-to-read survey results, you gain a unique insight into how your product or service needs to evolve.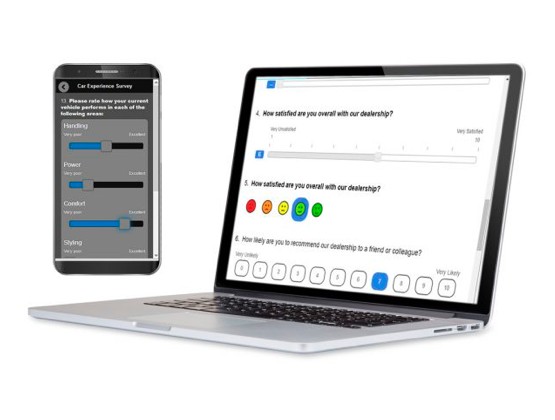 Voice of the customer (VOC)

Listening to and understanding the voice of the customer is crucial to restoring consumer trust in businesses and building customer loyalty, engagement, and advocacy.
Companies today must align their communications and product delivery with higher customer values. They must also set up a formal VOC program and actively be collecting, managing, and acting on customer feedback, which includes:
Understanding the needs and wants of a customer
Establishing the ordered importance of features and benefits
Identifying expectations and promises unfulfilled by your product or service
Discovering what would give customers increased satisfaction?
Net promoter score

Discover what's behind yes, no, or maybe when it comes to customer recommendations. The Net Promoter Score allows you to gauge customer loyalty.
According to industry standards, a 0 -10 scale is used to ask customers how likely they are to recommend your product or service. A score is automatically determined based on the percentage of promoters less the per cent of detractors.
With valuable insights gained from a net promoter score, you can gauge where customer loyalty begins and where it starts to drop off. Identify where these crucial drop-off points start, and you'll have a new area to focus on for improvements.
Measuring customer loyalty

This is a variant of customer satisfaction and has its own devotees. The questions and analysis vary slightly from traditional customer satisfaction surveys, but once again, SurveyManager® can run them all.
After mapping out a customer journey you can segment your questions into various steps. Identify crucial moments in a customer journey where loyalty drops, and you'll learn where improvements need to be made.
Improve how customers can interact with various steps, and you will elevate the customer experience for your product or service.
Understand your customers
Customer service surveys provide significant value to businesses, providing insight into the satisfaction of your customers.
Surveys can be used to understand how your customers feel about products and the overall service your business provides.
If you've launched a new product you can use surveys to find what your customers think, or if you want to gather data about how your customers feel about your current product range. This can help when planning for new products and allow you to ensure you are meeting the needs of your customers.
Improve customer loyalty
Building customer loyalty has never been more important for businesses.
Conducting customer satisfaction research is crucial for improving the customer experience. It provides you the opportunity to better understand your customers and give them a voice. This can be crucial for building trust and engagement with your customers.
Use customer feedback systems in Australia to gauge customer loyalty and identify any pain points your customers experience with your service or products.
Customise your customer service surveys
With many customer service survey companies to choose from, make sure to choose one that allows you to customise the survey to suit your business' needs.
Customer opinion surveys can include a wide range of questions, so choosing the right survey platform that provides flexibility and customisation will help you get the most out of your surveys.
Depending on your goal for the customer survey you may want to adjust each one, using different templates with different question types and adding your own logos and designs to strengthen the branding of the survey.
As well as custom survey templates, SurveyManager® provides custom reporting, making it easier for you to analyse the data from customer service surveys.
Determine the voice of the customer, your net promoter score and measure customer loyalty with Australian survey platform, SurveyManager®.
Why is a customer experience survey important?
A customer experience survey is an important tool for businesses because it helps to identify areas where the customer experience can be improved. By understanding what customers like and don't like about their experience, businesses can make adjustments that will lead to happier customers.
In addition, a survey can help to identify specific pain points that customers may have with a product or service. By addressing these issues, businesses can reduce customer frustration and increase satisfaction.
Finally, a customer experience survey can also help businesses to benchmark their performance against other companies in their industry. By understanding how they stack up against the competition, businesses can make changes that will help them attract and retain more customers.
How do you design a customer experience survey?
There's no one-size-fits-all answer to this question, as the design of a customer experience survey will depend on the specific goals and target audience of the survey. However, there are a few best practices to keep in mind when designing a customer experience survey.
First, make sure that the questions are clear and concise. Vague or confusing questions will only result in inaccurate responses. Second, try to avoid leading questions that may bias the results. Third, be sure to test the survey with a small group of respondents before administering it more widely.
Does SurveyManager have an inbuilt NPS survey and report?
Yes, SurveyManager does have an inbuilt NPS survey and report. The software includes a customisable NPS survey template that you can use to collect feedback from your customers.
Once the survey is completed, you can generate a report that includes detailed information about your customer's experience. This report can be used to help improve your business and better understand your customers' needs.
Can I be alerted if my customers are unhappy with my products or services?
Yes, you can be alerted if your customers are unhappy with your products or services with SurveyManager. You will receive an alert via email, text message, or push notification to your mobile device if a customer completes a survey and rates their experience as poor.
Can SurveyManager be integrated into my other customer facing systems?
Yes, SurveyManager has an API that allows it to be easily integrated with other systems. This means that you can gather feedback from your customers through SurveyManager and then use that data to improve your other customer-facing systems.
Join the growing list of clients who rely on SurveyManager to power their insights. Request a demo today!