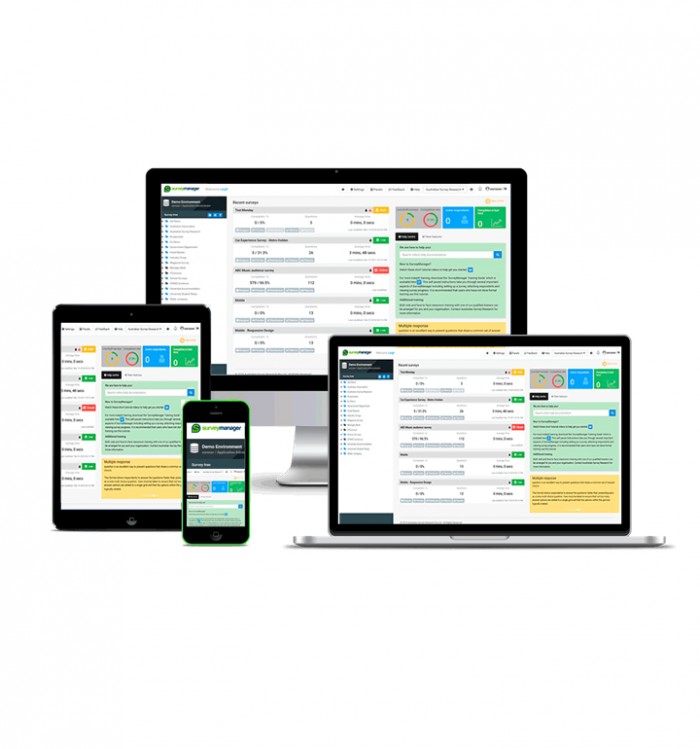 Simple survey design
One intuitive environment that makes questionnaire design simple and easy.
No programming is needed to create surveys using the inline editor or the advanced functions of the survey editing tool.
We have taken the hard work out of the setup and design process so you can deploy your surveys faster. Take advantage of existing SurveyManager® templates, add your logos and branding, and you are ready to deploy.
Or if you want to start afresh then use the powerful editing capabilities of SurveyManager® to get the look and feel you want for your survey by selecting your theme and your question types from the extensive options range in the editor.
Whether you require Facebook thumbs, smileys, stars, dynamic dropdowns, radio buttons, checkbox, drag and drop, sliders or free text, we have your options covered.
Choose and apply question logic and answer rules to deliver personalised surveys, and you are ready to schedule your survey via SMS or email.
Alternatively, you can add a link into your existing website or social media channels or deploy intercept or pop surveys to capture people's opinions in the moment.
Why you should customise your surveys
Surveys can be used for a range of purposes for various industries. With standard templates available it has never been easier to distribute surveys. However, to get the most out of your surveys and increase the likelihood of respondents engaging with them, you should customise your surveys.
Rather than simply using a blank, generic survey, customising your survey by using your logo, colours and other brand elements make it clear it comes from your company. You can brand your surveys to reflect your company image and resonate more strongly with your audience.
Some of the benefits of creating a custom survey include, increase in response rate, strengthen brand authority, boost overall brand awareness, and respond to and control customer perception.
If a customer has a strong loyalty to your brand, customising your surveys will help them recognise it as yours and they may be more likely to engage with it. It tells them who the survey is from and may create a sense of involvement that will make them feel as though they are speaking directly to the brand. Sending out unbranded website surveys can affect response and completion rates.
Online customer surveys can help boost your brand awareness and help strengthen your brand. A customised survey design reminds customers and survey respondents of your business, which could result in them visiting your website.
A customised survey creates a good first impression and may encourage respondents to engage and put more effort into survey questions, providing you with higher quality data.
Design surveys for websites
SurveyManager has made it easy to customise your surveys. From including your own logo and branding to using a range of question types in the one survey, our website survey templates can be customised to suit your design needs.
Whether you need survey creation for websites to be viewed on desktops or mobile devices, we've designed an easy-to-use process to customise your survey to reach the right audience and gather the data you need.
Join the growing list of clients who rely on SurveyManager to power their insights. Request a demo today!